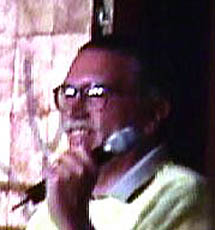 Bill Panzer from talks to us about the new projects currently on the slate at Davis - Panzer Productions
By Jan Lopreste
Talking to Bill Panzer is always such a pleasurable experience that I
hesitate to call it "work!" Although I am sure that he is an extremely busy man, Mr. Panzer has always been gracious and kind in sharing his time with me and with Highlander Fan Central. I recently had the chance to chat with him about what is happening in the realm of Highlander these days. He wasted no time in getting right to the heart of what is on everyone's mind.
Regarding plans for another live-action Highlander movie, he said "We are in conversations with the Miramax boys and they have asked us to develop another movie. So we are sending them an idea. Today's title is Highlander ~ TheSource." When questioned as to whether or not this might tell where Immortals actually came from, his seemingly wicked, gleeful pause was followed by, "Who
knows!" Have I mentioned that Mr. Panzer is an accomplished tease?
They are currently working on trying to agree on a concept, and will look to Joel Soisson ~ who wrote Endgame ~ to do the writing. "We would like to make a movie that has maybe a little more adventure in it, maybe a little more Raiders of the Lost Ark kind of feeling to it. I think it's a really cool idea, but lets see if anybody else thinks it's cool."
Now, because I love all of our fans here at Highlander Fan Central so much, I went out on that limb for you and asked about another live-action weekly series. As I am sure you know, the process of bringing an idea from a brain to actual production is a long and drawn out process and it takes tremendous amounts of planning, timing and funds. Still, Mr. Panzer gave me a snippet of information. A tidbit. A tease. "We have developed a treatment
with Jim Thorpe, who was a staff writer on the HL series for the last couple of years of the series, and consulting with - no, lets not even get into that." He laughed. Some things are just not ready for public consumption as of yet! I suppose we will just have to be patient until he's ready to tell us more, but he did share that Mr. Thorpe is a Canadian and Davis/Panzer would look forward to reprising their wonderful experiences in Canada. "I miss it." He says. "The show we are working on is called The Trinity. We
have a fairly extensive presentation and we've just started to go to market with it." Meaning it may still be quite some time before we hear anything more definite.
Davis/Panzer Productions isn't just involved with Highlander, though. There are a few other projects in the works just now. "We have a picture that is either going be called Dancer or Runner that David Abramowitz wrote and it's really terrific. Very exciting, slightly futuristic film noir, action, sci-fi. It's really cool. We are about to start looking for the director on that." He explained. It seems that most of the ideas in the office right now are all at about the same stage of development, in that they are "just hitting the market." Of course, anything that David Abramowitz writes is
bound to be "a keeper" and I am sure that Highlander fans will turn out to support it! The project has not yet been cast. Knowing that the first question out of most actors' mouths When they are approached to make a movie is, "Who's directing it?" the decision was made to find the director first! Smart move. Who do they have in mind? There are a few names that Mr. Panzer mentioned, but again, they are only just beginning the search so time will tell. He is, however, very complimentary about the script and thinks it will be a great project.
As for other projects, everyone has been asking about the DVD market, and the possibility of the six seasons of Highlander being offered in that format. "We're working on it. We're not quite sure yet what form it's going to take. There's the "Best of" and we're planning on doing the seasons, and we're just kind of organizing how that's going to play out because it's a fairly substantial investment. We also wonder about the strength of the market."
That sounds like a cue to me, folks. We need to let them know that we're interested!
Like many of you, I was curious as to whether or not we might see new Blooper Reels or behind-the-scenes features in the future. "Is there extra stuff sitting in a can somewhere?" I asked.
" Well, the question is, Where's the can?!?" We both had a good laugh over that. "Yes, I believe that our friends at Gaumont have everything in storage in France. But 'everything', as you can well imagine, is really a lot of stuff. Going through that to find additional bloopers and behind-the-scenes stuff would be a fairly huge job." Understandable. You may notice, however, that never did he say a flat-out "No!" to my question. I take that as a good sign!
Another question on several people's minds has been the possibility of getting their hands on scripts. "What's difficult about scripts is that the script format does not lend itself easily or inexpensively to DVD. What it does lend itself to is CD-Rom. And that's something that we might consider doing." He stated. The project would not be without the normal production problems that just about any project faces, but it is feasible. "Scripts on CD-Rom are something that we might include as a little bonus item with the DVD sets."
Always looking to the future of Highlander, and of the gentlemen who brought it into our lives, I asked Mr. Panzer, "Where do you see you guys in 10 or 20 years?"
"I see myself on a golf course." He dead-panned. We both laughed. "I hope to see the Highlander interactive, massive, multi-player online game a reality. It's a wonderful idea, but it's certainly not going to come out for awhile yet. " He explained that it's already been in development for over a year. "This makes movies look like a fast-paced business!" He could see the game as being something that the office would be constantly involved with, as adjustments and expansions were being made to accommodate more and more
people playing, new time periods, characters, etc.
"I see maybe doing some smaller HL movies, smaller but more of them, either for cable or direct-to-DVD. I see that as being kind of fun, kind of a way to tell a few more stories." It would certainly be more cost-effective. There is always a huge financial risk involved with undertaking a big screen production. "And there may be one more of those, if we get Highlander 5 off the ground. But you know, getting to HL-4 was pretty surprising!" And pretty neat. "There's not a whole lot of serious movies that there's ever been five of." Yet another accomplishment for Davis/Panzer to be proud of,
and another assurance that the legend of Highlander will live on long after we are gone. But then, that's the point of Highlander Fan Central, isn't it? To "keep the legend alive!"
Thank you to Mr. Panzer and Mr. Davis and all of the wonderfully talented actors, writers, directors, assistants, runners, copy editors, etc etc etc who worked so long and so hard to fill our hearts and homes with Highlander. We will keep watching, and keep hoping, that what started twenty years ago will still be going strong twenty-plus years from now. Even if it's from a golf course!